Trinity Term 2018

 Term starts on April 22 and the MCR has another activity-filled Term Card for you (will be posted soon). Lunches resume on April 9 and informal dinners on April 23. Check out the Trinity Lunch and Dinner Menu below.  Let us know if you can't find the information you are looking for: contact us.
Trinity Term Card coming soon!
Events over the next week
Jun
16
Sat
2018
Kellogg College Ball: The Garden of Earthly Delights

@ Kellogg College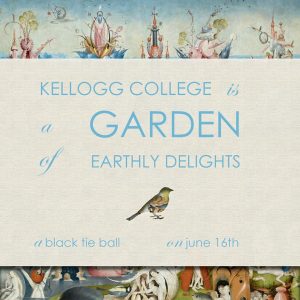 On the 16th of June we invite you to join us on a stroll through 'The Garden of Earthly Delights'.
Tickets are limited and now on sale at:
https://www.oxforduniversitystores.co.uk/product-catalogue/kellogg-college/kellogg-college/the-garden-of-earthly-delights-kellogg-college-ball-160618
Early Bird tickets are £69 (until the 19th of May) and Regular tickets are £75 (from the 20th of May).Tick ets include entertainment, food and drinks all evening. Dress code is black tie.  More information can be found on: https://www.facebook.com/events/2052155391728500/
On June 16th, join us on a stroll through the Garden of Earthly Delights Get your ticket
Tickets for the Kellogg Summer Ball are now on sale! On the 16th of June we invite you to join us on a [...]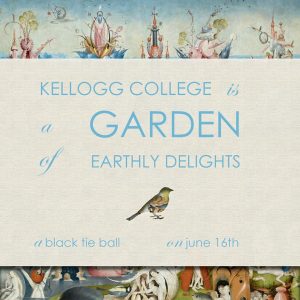 12:00 am
On the 16th of June we invite you to join us on a stroll through 'The Garden of Earthly Delights'. Tickets are limited and now on sale at: https://www.oxforduniversitystores.co.uk/product-catalogue/kellogg-college/kellogg-college/the-garden-of-earthly-delights-kellogg-college-ball-160618 Early Bird tickets are £69 (until the 19th of May) and Regular tickets are £75 (from the 20th of May).Tick ets include entertainment, food and drinks[...]