---
Dominique Fortes – President
Hi! I'm Dominique, your 2019-2020 MCR President.
I'm assuming you're reading this because you want to know a little more, so here it goes!
I'm currently on the second year of my two-year Master's degree in Contemporary Chinese Studies.
Prior to attending the University of Oxford, I lived in Taiwan for a year, completing a Fulbright grant. My background is in accounting, business, and Asian area studies. Fun fact: I am a two-time finalist (and one-time semi-finalist) in the Pirate's Pitch Venture Fund Competition held by my undergraduate university.
I am also very active when it comes to women's issues and am currently leading a project which is working toward a sustainable anti-domestic violence education program.
When I'm not doing that, you can probably find me, writing articles and creative pieces, practicing Mandarin Chinese, or playing soccer.
Want to chat? Just keep an eye out for the gal in the crazy shoes around college. That's me. I'm always available to chat and love meeting new people, so feel free to catch up with me at college or contact me via e-mail (Dominique.fortes[at]kellogg.ox.ac.uk), LinkedIn, or Facebook.
Don't want to use English as the medium of conversation? No worries! I'm also happy to chat in Spanish and Mandarin Chinese.
I can't wait to meet you!
---
Simona Sulikova – Vice President
Hi everyone, I'm Simona, the VP for the year. Together with Dominique we make sure everything runs smoothly. As this is my fourth year at Kellogg I am also one of the longest residing students. I'm doing a DPhil in urban transport, with a focus on cycling, climate change and public health, and in my spare time I'm either rowing, pole dancing or listening to audiobooks. Hope to see you around!
---
Giuseppe Spatafora – Secretary
Ciao! I'm Giuseppe, I hail from Sicily in Southern Italy and I'm the MCR Secretary for this year. Unfortunately I'm not Secretary General, so my duties are limited to organising MCR committee meetings and upholding our Constitution. I've spent two years at Kellogg for an MPhil and I'll be continuing with a Doctorate in International Relations. I feel very fortunate to be part of this friendly college community, and I look forward to welcoming you all!
---
Iro Sala – Treasurer
---
Kazuhi Kanai – Communications Officer
---
Neil Suchak – Academic Officer
Hey Team! I'm Neil and I am your academic officer this year. I'm in the first year of my DPhil in History where I study nineteenth century American anti-imperialism. This is now my fifth year in Oxford so I'd be happy to answer any questions you have about the university or the city. But, specifically, let me know if you have any academic issues that could be handled by the MCR. When work is not keeping me busy you can normally find me in the bar or trying to climb something that I probably shouldn't.
---
Dwijesh Nambiar

– Arts & Culture Officer

---
Anna Knowles-Smith – Green Officer

---
Andy Nguyen – IT Officer
Howdy! I'm Andy, a 2nd year student in the Software and System Security program. As your IT officer, I'm looking forward to serving our community with not only their IT issues, but also with lifelong learning opportunities. Also a firm believer that whiskey can solve most of the world's problem.
---
Poppy Moulis – Domestic Officer
---
Sandeep Unwith – Strategy and Development Officer
---
Nikolaos Kanellakis – Sports Officer
---
Lemuel Valdez – Part-time Student Representative
---
Jafar Said – PGCE Representative
---
Siyang Zhou – International Student Representative
As the international student representative of Kellogg MCR, Siyang is doing a DPhil in Education specialising in Second Language Acquisition. She loves travel, learning about different cultures, good music and salsa. Get in touch if you have any idea of helping international students to enjoy their life in Oxford better!
---
Ekin Genc – Welfare & Equality Officer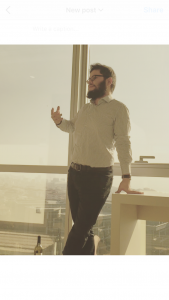 ---
Katya Soegiharto -Charities and Campaign Officer

---
Nicholas Devito – Bar Manager

Hi I'm Nick! Born and raised in New York, I'm this year's bar manager, and a second year DPhil in Primary Care working on clinical trials transparency research. When I'm not tending bar or trying to learn to code I enjoy traveling with my wife, cooking, trying to catch baseball games on way too late at night, and occasionally player keeper (poorly) for the Kellogg Football Club.
---
Tim Hakki – Social Secretary
My name is Tim and I'm a Social Sec. I'm studying the MSt in Creative Writing while working on my debut novel. I live in London, but you'll see my face plenty. When I'm not attending to literary, academic or college stuff you'll find me playing guitar in my band Cocoa Futures. I also work in a fantastic pub in London, which I recommend to anyone visiting. It's called The Grapes and it's owned by none other than Sir Ian McKellen!
---
Jiarui Zhang – Social Secretary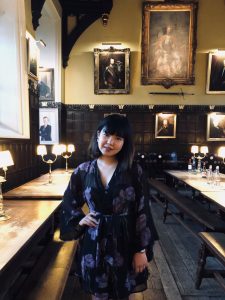 Hey y'all, I'm Jiarui and I'm a social sec this year. I'm studying the MPhil in linguistics. I love travelling without plans, learning new languages without procrastination and studying criminal minds with a bit of forensic and psychological analyses, terrible at cooking. Reach out to me if you need some practice in Indo-European languages/ would like to discuss the role of Humanities in academia.
---
Kevin Treder – Social Secretary
Hi Guys! I'm Kevin and doing my DPhil in Materials Science (Dynamic Transmission Electron Microscopy) here in Oxford.  As part of the Social Secretary Team, my job is to ensure that our college has a vivid and exciting social life and community. While I'm not being lost somewhere between equations and image reconstruction, you can either find me on the river rowing, or in the Buzz Gym. If anyone of you has a good idea for improvement, needs to raise constructive criticism or has any other queries, you are always welcome to contact me via: [email protected]. Looking forward for a great year with you!
---
Chamil Thanthrimudalige  – Social Secretary
Hi all, my name is Chamil and I am originally from sunny Sri Lanka. I am a part time student in the Software and Systems Security program in my second year now. Work in London in FinTech, and live between London and Oxford. It's our job as social secretaries to help you socialize and help you make those connections that you will cherish for life. My plan while I am part of the MCR is to organize more events that more people can take part in. Also would like teach some photography classes starting from 2019. In my spare time I row, read, binge watch Netflix, travel and attend music festivals. Did Cochella, Tomorrowland and Glastonbury in the same year 😉
---