Trinity Term 2018

 Term starts on April 22 and the MCR has another activity-filled Term Card for you (will be posted soon). Lunches resume on April 9 and informal dinners on April 23. Check out the Trinity Lunch and Dinner Menu below.  Let us know if you can't find the information you are looking for: contact us.
Trinity Term Card coming soon!
Events over the next week
Jun
16
Sat
2018
Kellogg College Ball: The Garden of Earthly Delights

@ Kellogg College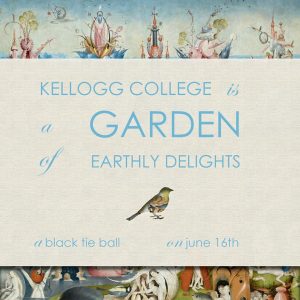 On the 16th of June we invite you to join us on a stroll through 'The Garden of Earthly Delights'.
Tickets are limited and now on sale at:
https://www.oxforduniversitystores.co.uk/product-catalogue/kellogg-college/kellogg-college/the-garden-of-earthly-delights-kellogg-college-ball-160618
Early Bird tickets are £69 (until the 19th of May) and Regular tickets are £75 (from the 20th of May).Tick ets include entertainment, food and drinks all evening. Dress code is black tie.  More information can be found on: https://www.facebook.com/events/2052155391728500/
Dear Cornflakes! As a graduate college, we have a different connection with Oxford's eight-week terms: our seminars may end but our work does [...]
Because of the weather, the Guest Night Dinner tonight (1 March) has been cancelled. College will host informal dinner though!
Dear Cocoa Cornflakes, A couple of fun exchanges this week, in addition to the usual offerings and a medical-themed colloquium on Thursday. [...]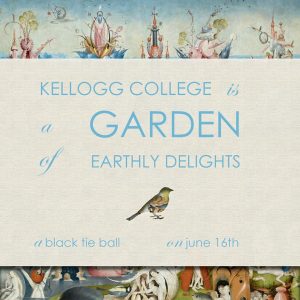 12:00 am
On the 16th of June we invite you to join us on a stroll through 'The Garden of Earthly Delights'. Tickets are limited and now on sale at: https://www.oxforduniversitystores.co.uk/product-catalogue/kellogg-college/kellogg-college/the-garden-of-earthly-delights-kellogg-college-ball-160618 Early Bird tickets are £69 (until the 19th of May) and Regular tickets are £75 (from the 20th of May).Tick ets include entertainment, food and drinks[...]