When:
January 14, 2018 @ 2:00 pm – 5:00 pm
2018-01-14T14:00:00+00:00
2018-01-14T17:00:00+00:00
The Academic Writing Group is for all those who want to enhance their productivity.  'Writing' includes anything that brings you closer to producing a piece of written work, be it required reading, research, editing, or writing. Goals are set at the beginning of each 1h15 minutes segment, during which all social media, emails, and internet is turned off and your peers keep you to task. A fifteen minute break for stretching, chatting, and refreshments breaks the session.
The Academic Virtual Writing Group is for all those who would you like to take part in an academic writing group but don't have time to come to Kellogg in person. Students who have piloted this virtual session during the Sunday Academic Writing Group in Michaelmas term said that it helped them focus on their work and feel part of the Kellogg community even if working on the other side of the globe.
You connect with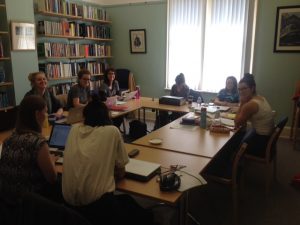 other virtual members and with the physical group taking place at Kellogg through Adobe connect. You will be able to see and hear the other virtual members and the physical group live, and they can see you through your computer camera (no problem if you don't have one or prefer not to be seen). You will be able to hear the goals of the people in the room say and see what virtual members set for themselves in the online chat. During the session, you can decide whether to switch the audio from the physical group on or off. You can choose to take part in both 1h 15min sessions or just one.
To sign up for the Virtual Academic Writing Group, please sign up here: https://www.eventbrite.com/e/virtual-writing-group-tickets-41899657002?aff=Promotion You will then be sent instructions on how to connect. Please be ready at your computer with internet enabled at 1:45pm on Sunday so we can make sure everyone is connected by 2pm.